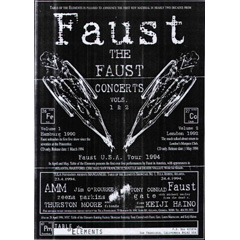 Welcome to the new blog for Faust related news, where you can find news about gigs, releases and events/news including members of Faust and/or founder members of Faust. Also links to articles, reviews or other stories of interest will be presented here.
To start you off, a review of the joyful damage Faust did at the
WFMU fest in Williamsburg
in October, can be found
here
.
If you find something that should be posted here please send a word to faustnews [at] gmail.com.